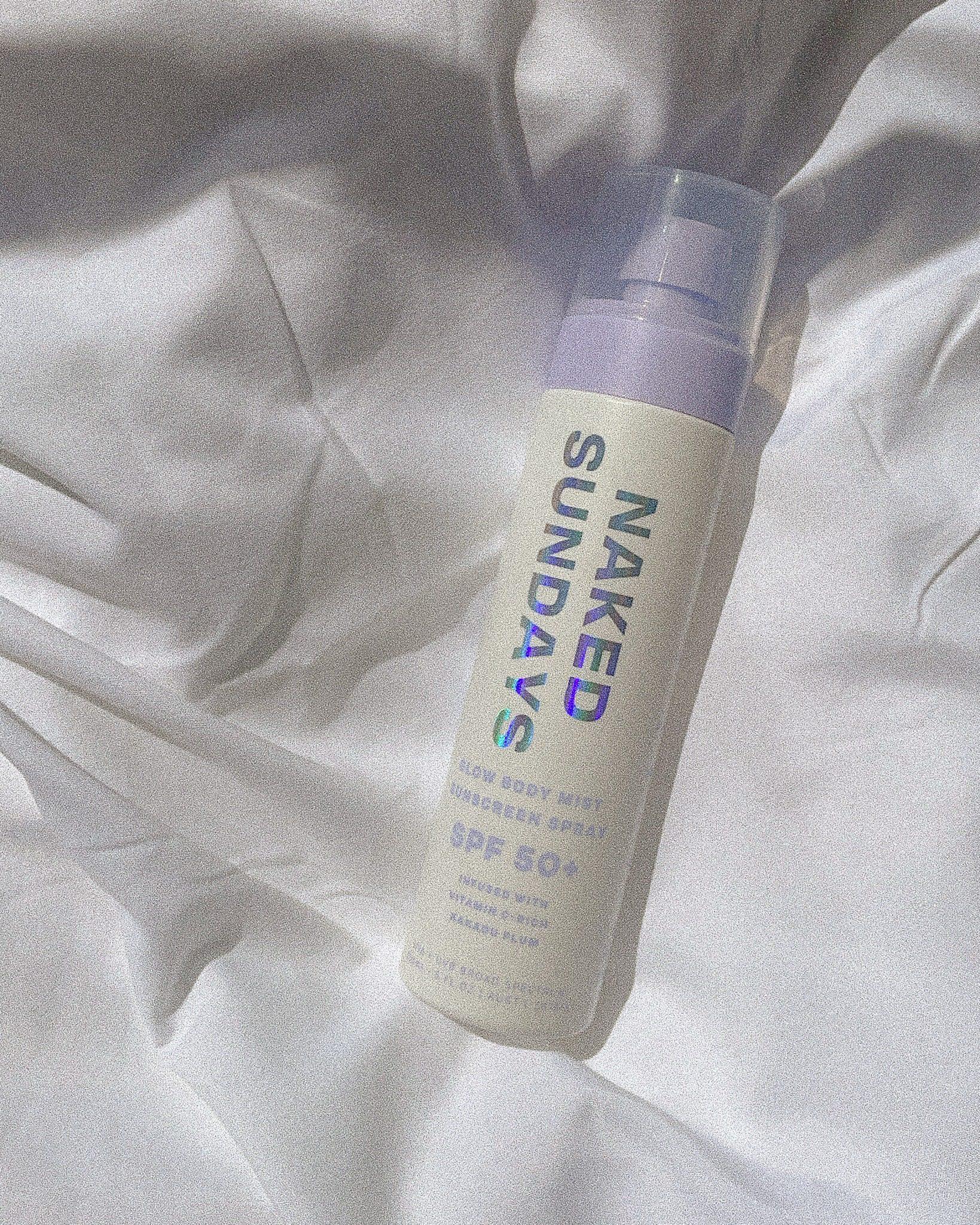 Body Sunscreen Review: Naked Sundays Glow Body Mist SPF50+
A body sunscreen you basically can't feel? Naked Sundays Glow Body Mist SPF50+. Let me tell you about it.

I was blessed with ADHD and one of the fun symptoms is sensory issues. It basically means you're extra sensitive to sensory input – could be sounds, sensations, light, and you can get overwhelmed and agitated by them. Because our brains are constantly searching for distraction and can fixate, it's really difficult to ignore things that others may not even notice.

For example, I found working in an open-plan office excruciating, as the sounds and movements made it difficult for me to concentrate, and then I'd hate myself for being unproductive.

How is this relevant to sunscreen? Well. A lot of body sunscreens are greasier than face sunscreens, and I find the greasy feeling very distracting and uncomfortable. Because I can feel it on my skin, I am distracted all day by thoughts of how it may get on my clothes and stain them, or how I can't wait to wash it off. Neurodiversity is fun! This happens to people without ADHD, too, by the way.

But this sunscreen I don't notice after a couple minutes. It sinks right in. A revelation!
Price: $44.95 for 150mL via Naked Sundays website. I have a 15% off code, too! It's HANNAH15.

Inclusivity: It's clear. Swipe for a swatch video ✨

Comments on Packaging: It's a non-aerosol pump spray. Super convenient. I will say, with a mist it's extra important to make sure you've used enough – I apply a couple of layers, because some inevitably ends up in the air. This mister is also quite fine, so be extra vigilant.
The correct amount of sunscreen is one teaspoon per limb per Cancer Council Australia, and that worked out to about 20 spritzes for me. You could also apply in 2-3 layers to make sure you have coverage.

Feel/Finish:
Non-greasy, applies like a dry oil and dries down very quickly. You could put it on your face if you like!

Does it rub off or stain clothing? Black clothing? White clothing?
It doesn't rub off much, because it's so quickly absorbed and invisible. Black clothing is fine, white clothing is a slight risk because of the UV filters – even though it stays put, a little can still rub off with friction.

Will it break me out on the body?
I doubt it, but be sure to take a night shower after wearing body sunscreen as it is designed to form a UV-resistant film.

Will it remove my fake tan?
No issues for me.

UV Filters: Homosalate 10%, Octocrylene 8%, Octisalate 5%, Avobenzone 3%

Reapplication Experience: Again, because it's well absorbed, layering is no issue.

Alcohol? Y

Fragrance? Y, A fruity floral.

Sweat Resistant: Fine for me

Water Resistant: No

AUST-L: 367815

Bonus Ingredients: Antioxidant protection from watermelon (rich in lycopene) and kakadu plum (rich in vitamin C), plus Vitamin E

Altogether I really like it and it's the most comfortable body sunscreen I've tried. I do have a discount code, HANNAH15, for the Naked Sundays website too.