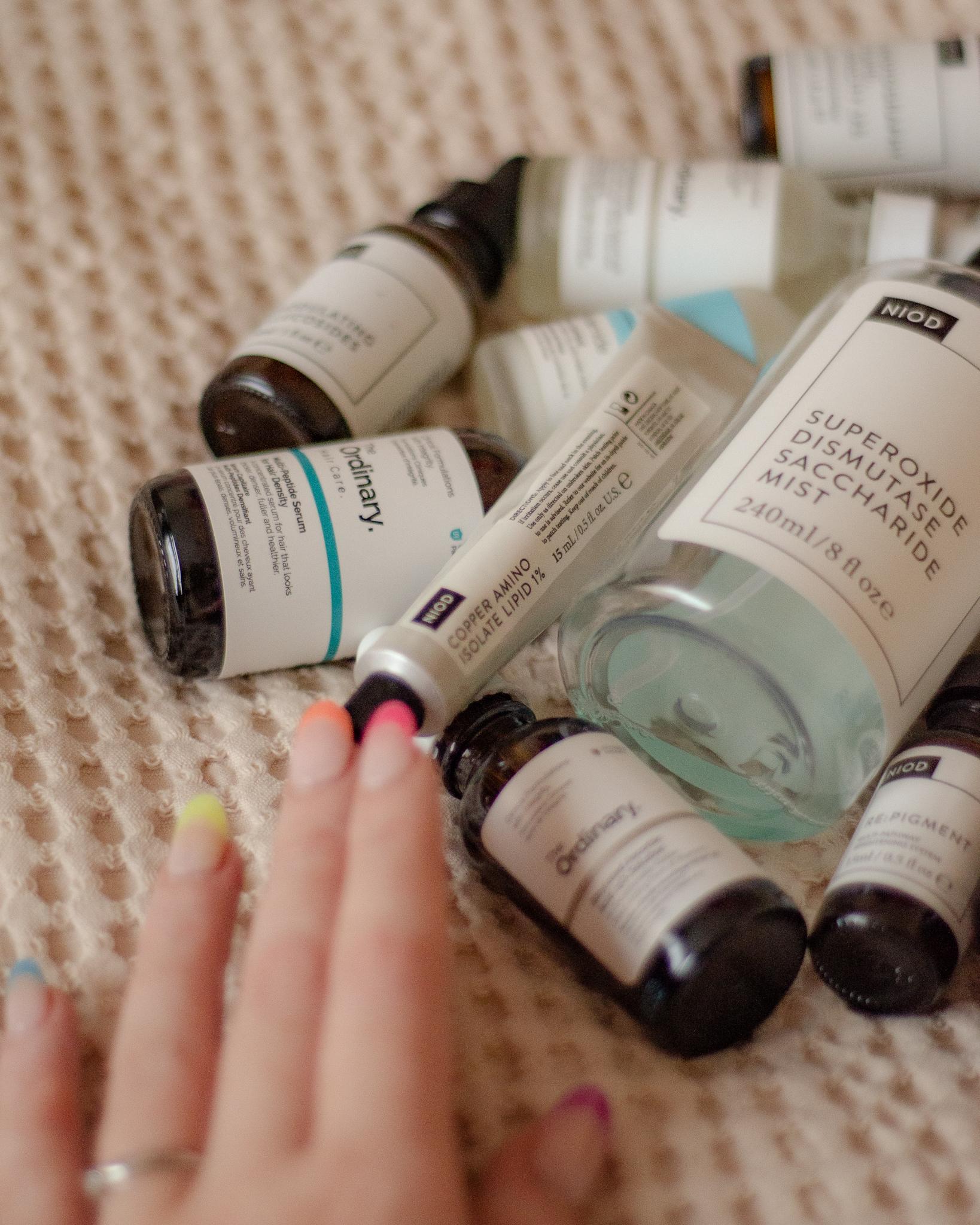 Deciem Favourites: Part 1
I'm a Deciem fan from way back – I remember discovering SubQ Face on the Hylamide website and showing it to my friends in the uni library, before The Ordinary was even launched. I was obsessed! It's been my absolute pleasure to watch the brand grow and change the beauty industry for good. I've tried a fair few products in my time so in honour of the Deciem KNOWVEMBER 23% off sale, I present to you my Deciem Favourites Part 1: everything except The Ordinary.
Which will get its own post, don't you worry!
Prices listed are the full price, before discount.
NIOD Favourites
In no particular order;

Flavanone Mud
Obviously. It's the one mask that ruined all other masks for me. It can shrink a spot in 10 minutes, it can bring one that's under the skin to a head, it brightens the complexion and leaves you so, so smooth.
Fair warning, there's quite a tingle for most people. You can minimise it by using a thin layer, and by removing with a washcloth rather than just water. Oh, and don't do the accelerated 5 days in a row method. Every second day is plenty.
$59AUD for 50mL/$90AUD for 100mL
Copper Amino Isolate Lipid
Copper peptide is a fabulous alternative to retinoids, for those intolerant or pregnant. It's very healing for skin and wonderfully restorative if you're sensitive, and this lipid formula is a spreadable squalane-based gel-oil. Designed to be absorbed into deep layers of your skin, and to promote the retention of subcutaneous fat we all lose as we grow older, if you like a one and done PM treatment, this is for you.
And you only need the smallest amount, too. I love to use it alone on my non-active skincare nights.
$135AUD for 15mL

Superoxide Dismutase Saccharide Mist
The short version: A supremely calming mist that will noticeably make your skin happy. It's my favourite.
The less short version: Our bodies have their own mechanisms to prevent damage to cells from free radicals. Free radicals are everywhere, not just outside, and this mist supplements our own internal processes for managing the ongoing environmental stress.
$75AUD for 240mL

Survival 0
I use this as an AM serum right before my sunscreen, and it has technology to prevent damage to skin not only from several different kinds of free radicals, but from air pollution, high energy visible light, and infrared. It also hydrates your skin. I love it so much!
Keep in mind, the Deciem website suggests to use this in the PM. That's because in other countries, it comes in an SPF version, and ideally you'd use that during the day. We can't get the SPFs in Australia so I just use Survival 0 in the AM with another sunscreen.
$35AUD for 30mL
Sanskrit Saponins
After a clay cleanser for a hot, sweaty, or oily day? Sanskrit Saponins performs like a clay cleanser, removing excess pollution and oil without ever stripping your skin. I adore this cleanser every now and then in the summer to prevent that inevitable hot weather congestion.
$34AUD for 90mL/$65AUD for 100mL

RE:PIGMENT
A technologically advanced serum to target hyperpigmentation, whether it be age spots, post-acne marks, or anything in between. This one isn't super tolerable for me so I use it every other night or so, and it utilises a potent azelaic acid derivative called Potassium Azeloyl Diglycinate to work its magic. Amongst other things.
$60AUD for 15mL/$105AUD for 30mL

Voicemail Masque
This is a sleeping mask, and the dry skin version of Flavanone Mud (if you ask me). It's heavier and moisturising as opposed to clay, but the same brightening and smoothing effects are there. There's somewhat of a tingle, great for bringing blood and thus nutrients to the surface.
$70AUD for 50mL
Hylamide Favourites
SubQ Mist
It's calming and hydrating, not quite as calming as the NIOD mist, but a third of the price. If you're seeking your first skincare mist, this is it.
If you're not yet using a facial mist, let me tell you about them – I use mists, hydrating toners, and essences interchangeably as the first step after cleansing. I find my serums absorb much better on damp skin, and it can prevent other products from pilling (as well as allowing you to use less at a time)
$24AUD for 120mL

SubQ Skin
A one and done face serum for PM, it replenishes minerals, hydrates, targets fine lines, soothes sensitivity, and contains peptides. All in a delivery system optimised for maximum benefits. The serum that got me writing about skincare.
$34AUD for 30mL

Pore Control
Tried The Ordinary's Niacinamide and Zinc? Looking to upgrade to something similar that covers more ground? Pore control will, well, control your pores, help diminish their appearance and clear them of buildup.
$28AUD for 30mL

Photography Foundation
Comes in transparent, golden tan, and dark tan. Alone, it makes your skin look incredible on camera – smoothed, blurred, hydrated. Under makeup, it acts like a silky primer. It's also oil-free, if that's your jam.
$24AUD for 30mL
The Chemistry Brand
Did you know there's a body care brand too?
Yes indeed! An industry leader, to be honest. And it's all safe for your face.

Hand Chemistry
In case you want protective and age-preventative skincare for your hands, Hand Chemistry uses the same copper-rich technology as SubQ Skin. It brightens, smooths, hydrates, and absorbs quickly without balling up, too. Get the giant tub. Smells slightly fruity, like the Retin-Oil.
$14AUD for 30mL/$35AUD for 100mL/$55AUD for 240mL

Retin-Oil
Retin-Oil is the gentle active you've been craving for body. Rich in Vitamin C as well as 1% hydroxypinacolone retinoate, it's lovely layered under your body cream. It also gave me really clear and bright skin on my legs! Obsessed.
$40AUD for 100mL

Hyaluronic Concentrate
This is kind of like a giant HA serum for your body. Apply it fresh out of the bath or shower, while your skin is still damp, and enjoy your most hydrated skin yet.
$50AUD for 240mL

Glow Oil
A shimmery and moisturising body oil with gradual tan and loads of antioxidants, including Superoxide Dismutase. I love to layer under sunscreen in the summer. You'll develop some natural-looking colour after a day or two of use.
$40AUD for 100mL
What's on your wishlist?
You can also check out Part 2: The Ordinary, and stay tuned for Part 3: my own wishlist of things I'm yet to try.
Some of these products were provided to me as PR samples, and this post contains affiliate links. Read more about this in my disclosure policy here.