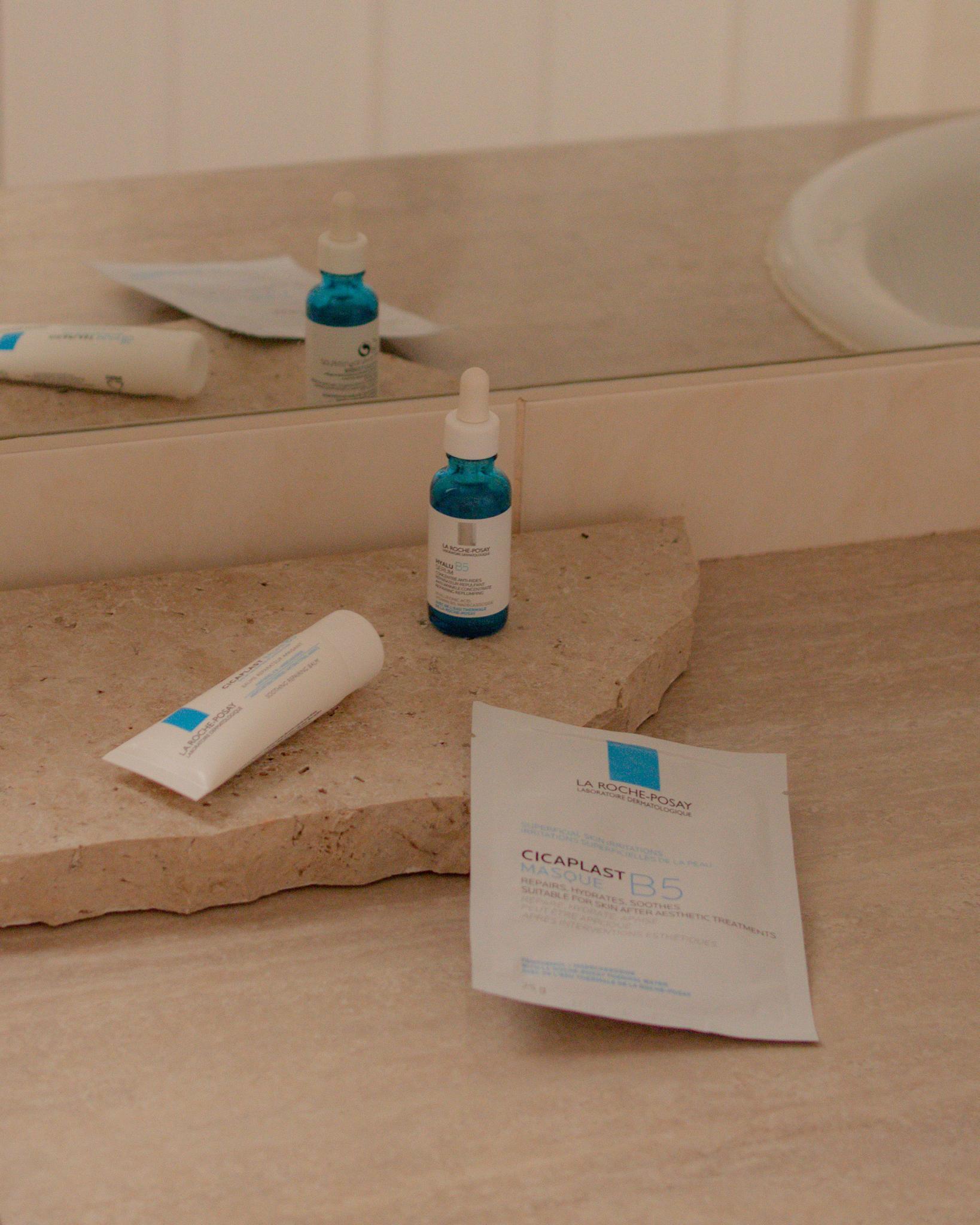 Panthenol (aka Vitamin B5) – Sensitive Skin's Best Friend
This blog post is sponsored by La Roche-Posay
My skin is sensitive sometimes but not always – what's going on!?
Sensitivity can happen at any point in our lives, for several reasons. It could be stress, weather, using products that are too harsh, using too many different products, internal inflammation, allergies. It's thought to be largely related to how well our skin's barrier is functioning – things that wouldn't normally irritate you can penetrate further into your skin when the barrier is compromised.  

Our skin's function is to keep water in the body, regulate temperature, and to keep the environment out. Environment meaning; UV radiation, allergens, pollution, unfriendly bacteria and other microbes etc.

Now, the barrier is the top layer of skin cells, also called the stratum corneum, and it's made up of skin cells almost ready to shed, held together by barrier lipids. These are ceramides, cholesterol, and free fatty acids. When this barrier is not keeping unfriendly things out, they can be picked up by nerves and immune cells and trigger a reaction or further inflammation. That's why it's important to use gentle skincare after aesthetic procedures – because your barrier can be compromised.
How do I tell if my skin needs repair?
Does your skin feel hot or tight, look flaky, and maybe products tingle or burn that normally wouldn't? You could also see redness or look blotchy.

Did you use a highly active product, or have a treatment? Or maybe you've been using a lot of actives together? Without any rest days for your skin? Or you've had an aesthetic procedure in clinic?

Skin can also become dehydrated and feel dry and sensitive in cold, dry climates, exacerbated by our tendency to take hot showers. I absolutely need thicker moisturisers in the winter!
OK, I definitely need some TLC – what should I do?
I want you to think about your skincare routine as an opportunity to give back to your skin, rather than take from it. If a product feels like it's taking away from your skin's happy place, balance it with things that give back.
What ingredients do I look for to give back?
We want ingredients that are well-tolerated in skin, and can soothe, heal, and restore the barrier's function.
First, a quick refresher on vitamins: they're essential for our bodies and metabolisms to function and grow. And your metabolism is all the chemical reactions taking place in each cell in your body. Skin cells have metabolisms too!

Panthenol is a precursor for pantothenic acid, AKA vitamin B5. It's a small molecule so it's easily absorbed through skin's upper layers, it's extremely well-tolerated by skin, and it's often used to aid wound healing. Vitamin B5 is necessary in our body's fatty acid synthesis process, and can you guess how this helps our skin?

By supporting the barrier!

Because it's made up of free fatty acids!

Panthenol is also known to help with skin's hydration, elasticity, smoothness, and protection against irritation. What can't it do! There's documented reduction in redness, burning, stinging, tingling, itching, and heat, too. And all of this at concentrations of 1% panthenol or less. In fact, more than 1% can make a formula sticky and hard to work with. More is not always better!

Glycerin is a humectant and so much more. A humectant, by the way, is a water-soluble molecule that can grab onto a lot of water.
It's sometimes called glycerol, too. It's a small molecule, and it can even help with water transport inside our cells!
Glycerin is extremely well-researched and well-tolerated, and found naturally in the body (just like panthenol).
Its non-humectant skin benefits include helping normalise skin's lipids, helping skin exfoliate itself, and helping maintain the all-important barrier. An all-star ingredient and one that's all too often overlooked!
Amazing! So which products can I find Panthenol in?
I have a whole PM routine for you! You can see it in video form on my IGTV, too.

We'll start (on cleansed skin) with the NEW La Roche-Posay Cicaplast B5 Mask, a fragrance-free, hydrating, soothing and repairing face mask formulated with panthenol. It instantly hydrates and calms my skin, even at its most sensitive, and it's made of biodegradable pure cotton fibre.

From here, I'll go in with the La Roche-Posay Hyalu B5 Hyaluronic Acid Serum, for more panthenol, some hyaluronic acid, and a hydrating, skin-plumping effect that really diminishes any fine lines. If you haven't tried Hyalu B5, you'll notice a difference in your skin's hydration that only gets better with time. It showcases a fast-absorbing, aqua-gel texture that creates the perfect base for a moisturiser.

When my skin is dry, I'm very much into quenching it with layers of humectant-rich hydrators, so my next step is the La Roche-Posay Cicaplast Baume B5 Balm. It's rich, but never pore-clogging. Of course, there's panthenol. It also contains our other favourite (glycerin), plus shea butter and soothing madecassoside to further hydrate and care for my skin. Cicaplast Baume B5 Balm is something I can consistently rely on to comfort my skin, and everyone should have this multi-tasker in their skincare cabinet for stressed skin moments.

This regimen is best repeated at least once per week (or as often as you like!), and it's made for sensitive skin. I've been using the Cicaplast B5 Mask on sensitive days for a little while now, and I can feel the difference it's made to my skin alongside Hyalu B5 Hyaluronic Acid Serum and Cicaplast Baume B5 Balm. I reach for the balm daily!
My skin feels hydrated but also much stronger and healthy-looking, which is something I've struggled with in the past due to my fair, rosacea-prone skin type.
Where can I find the new Cicaplast B5 Mask?
Click here to learn more and locate your nearest stockist. Get a few. You're welcome.