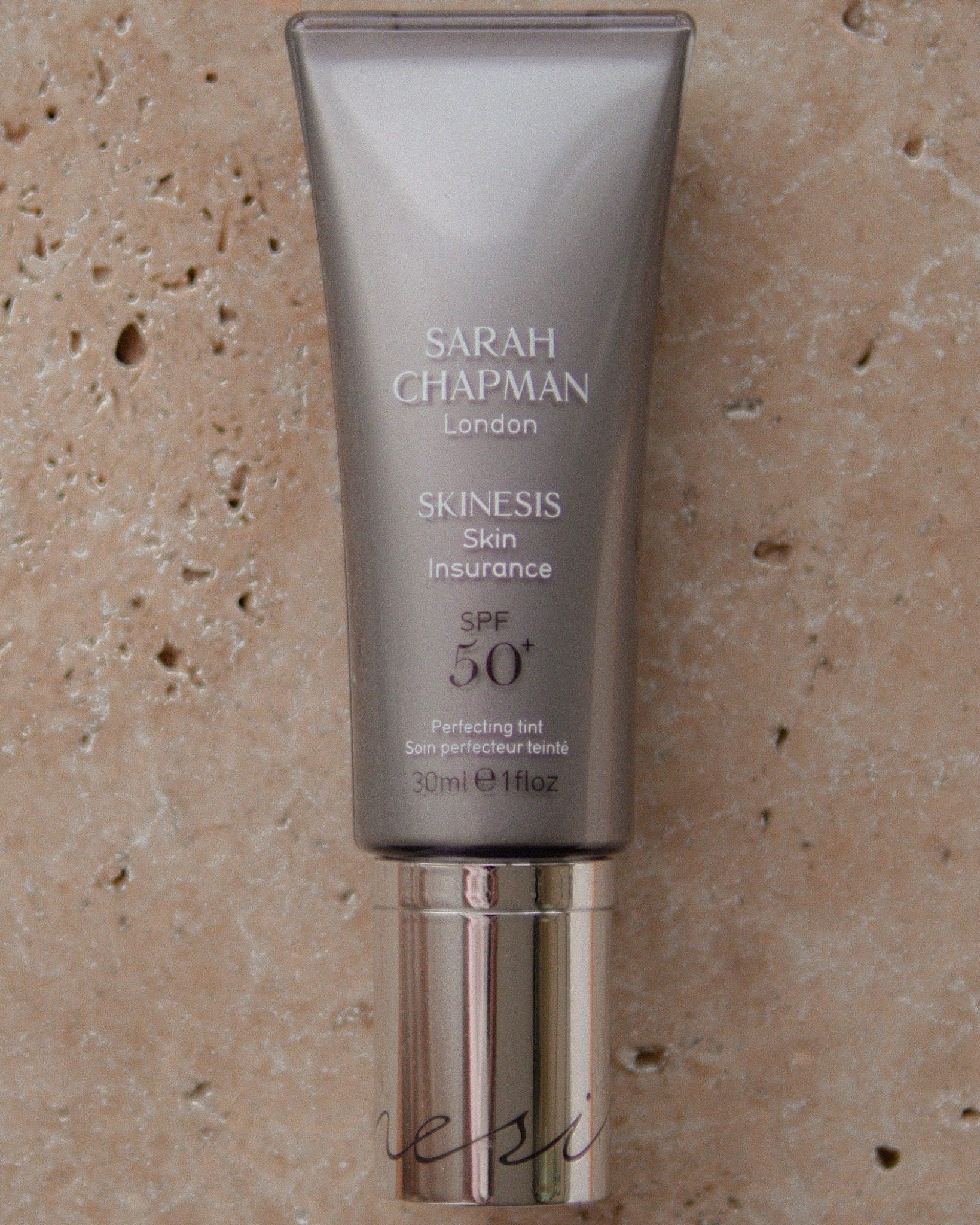 Sunscreen Review: Sarah Chapman Skinesis Skin Insurance SPF50+ Perfecting Tint
Do you have fair skin and want to add some colour with your sunscreen, or medium-toned skin and want to add glow?
Or perhaps you like a little coverage with an SPF boost over top of your other SPF?
Packed with actives?
The Skinesis Skin Insurance SPF50+ Perfecting Tint might be for you then!
Inclusivity:
Skin Insurance SPF50+ comes in one shade. It's sheer-ish when worn as makeup, but quite pigmented when using the recommended amount (ie. at least 1/4tsp for face)
Worn this way, it's best for medium skintones. It's quite dark on me unless wearing a lot of fake tan (swipe and look at the colour difference between my hands and my face).
If you plan to use it as makeup with sunscreen underneath, it will add a beautiful sheer glow.
If you're using a lot as your sole sunscreen, you'd need to be a shade match.
Makeup Compatibility:
In the pictures I used Skin Insurance as my base and added concealer here and there. I'm wearing quite a lot of the tint here.
When worn sheer it's heaven, v natural and glowy.
For this reason I think it's a gorgeous tinted moisturiser and added boost of actives if you wear sunscreen underneath.
Skin Insurance SPF50+ does not reapply well over itself – I would use a lot of mist or another liquid sunscreen to sponge over top (see my Instagram story highlights for a demo)
Skin Types:
Definitely not mattifying so best for normal to dry. Or if you're oily and like a glow.
Finish:
Stunning and satin.
Sensitivity: None experienced
Eye sting:
Only when cleansing it off at night
UV Filters:
Octinoxate, Uvinul A Plus, Uvinul T150, Tinosorb S, Tinosorb M (nano).
Fragrance: Yes, and essential oils of cedar, rose, geranium.
Alcohol: Yes, but it's fine and not drying at all.
Bonus Ingredients: Jam packed!
We have moisture from
💧 Glycerin, squalane, pentavitin®️, sunflower and meadowfoam oils,
⚡️ Antioxidants niacinamide, vitamin C, ferulic acid,
🧬 DNA protection and repair,
🌈 Pigment blocking Melanostatine® 5, O.D.A White™
And MUCH more. A dream tbh.
AUST-L: NA, this is a European product.
Altogether, Skinesis Skin Insurance SPF50+ is beautiful as light makeup with extra protection & actives, but I would prefer to wear it sheer with another sunscreen underneath. I'm blown away by the number and quality of skincare ingredients on top of a fantastic UV filter combination.
You can purchase worldwide from Cult Beauty here.
This product was provided to me as a PR sample. Read my disclosure policy here.