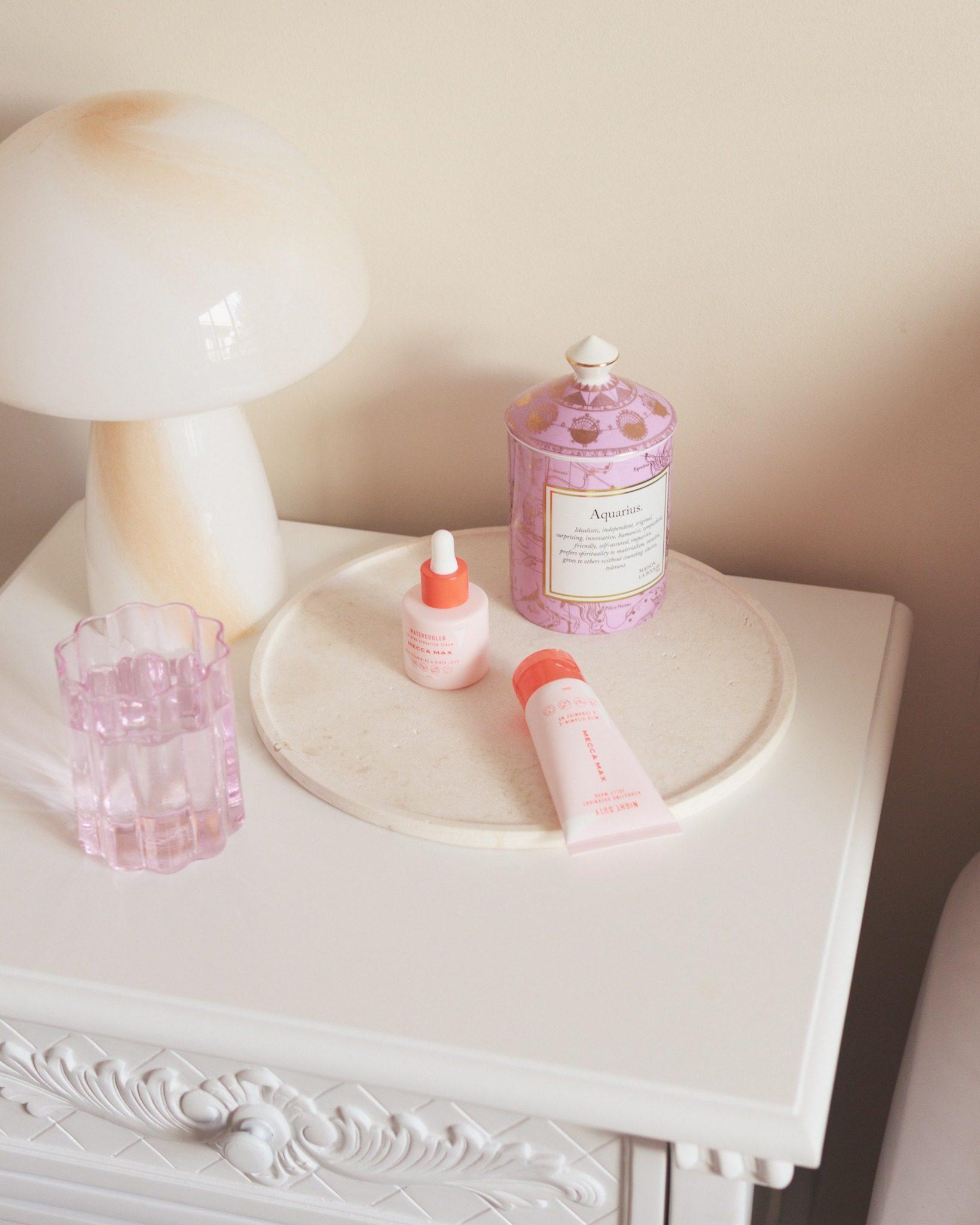 The Tea on Mecca Max Skincare – Review
Every now and then, I come across skincare so fabulous and affordable that I wish I had access to it as a teen. This is it. I've had the whole Mecca Max Skin line to test since before it launched, it's cruelty-free, vegan, fragrance-free, and starts at $10. Let me give you the tea.
Quick disclaimer, whilst I am acne prone, I wouldn't call my skin oily. It's combination and sensitive.
FOAM-O Gentle Gel Cleanser, $15
Gone are the days when gel cleanser meant a stripping, harsh, squeaky-clean feel. Make no mistake, FOAM-O will get your skin clean, but it leaves you fresh and hydrated with a delightfully unique jelly texture. It's fragrance-free but smells pleasantly of aloe, one of the star ingredients alongside calming niacinamide, glycerin, and beta-glucan. I really like it.
CLEAN SWEEP Gentle Exfoliating & Brightening Toner, $15
The actives in CLEAN SWEEP are glycolic, lactic, and salicylic acids, but it's a lot less full-on than the Mecca Cosmetica equivalent, Glow-Giver. In a good way. I could happily use this every second day without my face falling off. Perfect for keeping clogged pores at bay, and soothes as it exfoliates with calming aloe, allantoin, panthenol, and chamomile.
The brightening effect comes from the exfoliation, so if you're looking to treat hyperpigmentation it will help, but not alone. And of course, when using AHAs, don't forget your sunscreen for a week after use.
ALL DAY EVERY DAY Oil-Free Moisturiser, $20
More of a matte finish than I'd personally like but perfect for oilier babes, ALL DAY EVERY DAY helps to normalise oil production over time thanks to niacinamide, and controls excess oil as you wear (with silica). Won't clog your pores. Repeat after me: even oily skin needs moisture!
THE BREAK-UP Blemish Busting Serum, $25
Can we take a moment to thank Mecca Max for the acknowledgement (in the form of this serum) that acne-prone skin is inflamed, and must be calmed rather than obliterated? Thank you.
THE BREAK-UP gently unclogs pores with BHA salicylic acid, balances excess oil with zinc PCA and niacinamide, and calms as it hydrates with aloe and glycerin. Use daily, morning or night, not both, and you can expect breakouts to clear out within a few months. Patience is key. A great companion to CLEAN SWEEP as well.
X-ZIT STRATEGY Clarifying Mask, $22
Now this is brilliant. Anyone that knows me knows that I don't really have time for clay masks, and that's because I have one that really rules them all – NIOD's Flavanone Mud. Let me tell you now – X-ZIT STRATEGY costs less, targets and shrinks blemishes well, and without the strong tingle. There's 5% lactic acid, so you do need to use your SPF for a week after use, there's also sulfur which smells like… well… sulfur, but is extremely effective at reducing existing blemishes. Especially inflamed ones. Then we have kaolin clay and charcoal to gently absorb excess oil. An instant classic, and perfect for shrinking a spot quickly.
NIGHT DUTY Hydrating Overnight Jelly Mask, $22
I've found a lot of sleeping masks to ball up and thus be unsuitable for daytime, when I'd need to wear sunscreen and makeup over top, but I've been using this during the day as well as night time and it's lovely. A gel-cream texture that's lightweight but nourishing, won't clog pores, and leaves your skin plump and hydrated. Star ingredients are glycerin, niacinamide, ceramide NP, panthenol, aloe, and electrolyte sodium PCA. I love this.
WATERCOOLER Calming Hydration Serum, $25
I know. Calming and hydrating. It's perfect for me and I reach for it constantly, morning or night. A hydrating serum is perfect to layer for those not getting quite enough from a moisturiser. Balances stressed skin with probiotics and panthenol, hydrates with betaine and glycerin. Also, interestingly, this hydrating serum does not contain hyaluronic acid. Watercooler does what it says, and the texture is wonderfully light – suitable for any skin type, never heavy.
SPOT DOTS Blemish Busting Patches, $10 for 12 or $26 for 36
Not all pimple patches are created equal, and a quick refresher: they work by drawing fluid out of the spot. Some contain actives, like salicylic acid, but personally I prefer it when they don't, so as not to risk irritation. And these do not contain actives. Perfect for me! They're great for papules or pustules (small, red inflamed spots with or without pus) but if you have a nodule (deeper, under the skin), then look for pimple patches with microdarts and active ingredients.
Regardless, SPOT DOTS are fabulously convenient to have on-hand.
Altogether, you can't really go wrong (so long as you choose products for your skin concerns). It's a glowing recommendation from me!
Disclaimer: I was engaged in an Instagram paid partnership with Mecca Max Skin for launch. This blog post is in no way sponsored, and all opinions are my own.