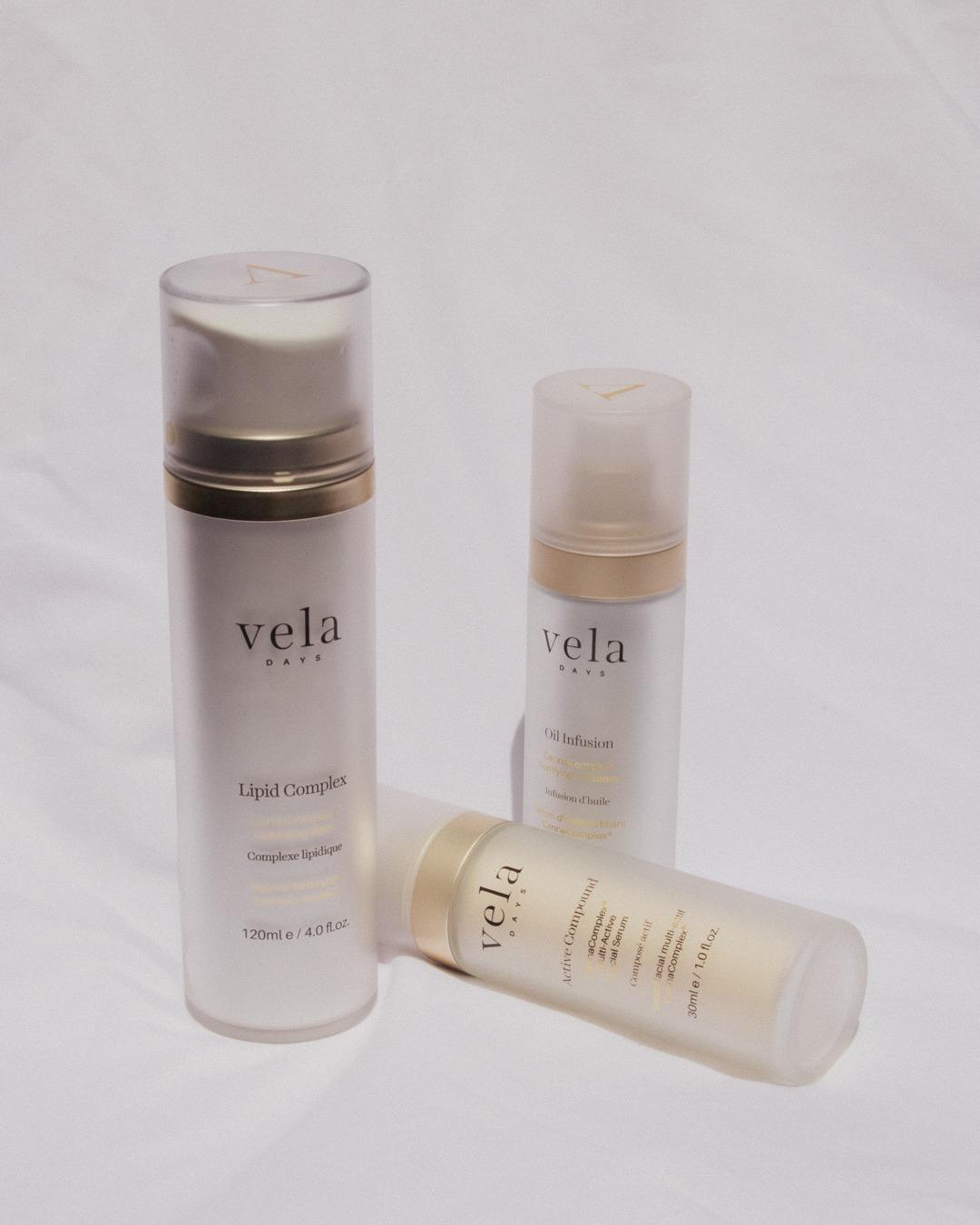 Vela Days: The Closest Thing to CBD Skincare for Australia
In Australia (unlike other countries) we can't have beauty products with cannabinoids due to strict regulations. What we can have, however, is hemp seed oil and hemp extracts. So long as they're free from psychoactive compounds (for example CBD or THC).
Hemp seed oil and hemp extracts can have anti-inflammatory, oil-balancing, moisturising, and active healing properties, but these are highly dependent on the brand's ingredient sourcing and processing methods.

Vela Days comes from pharmaceutical medicinal cannabis company Greenfield MC, so you know you're in good hands. I've had the 3 Vela Days products since July 2021 and trialled extensively! Here's the full breakdown, plus my experience and review:
Cleanser
Vela Days' Lipid Complex Hemp-Enriched Cleansing Balm is a gel-oil to milk cleanser in a pump (!) that's fragrance free yet smells lovely and herbal (thanks to Blue Tansy, also responsible for the stunning colour). It's super calming and nourishing and emulsifies well, allowing you to remove it with or without a cloth.
You can also add water to turn it into a milk, and use it that way for your second cleanse. It's one of my favourite oil cleansers now, I can't stop.
Serum
Active Compound Hemp-Enriched Multi-Active Facial Serum is a milky emulsion that… when they say Multi-Active, they mean it. There's encapsulated retinol for improved texture and breakout management, but in a small dose so you can use it daily. There's brightening from niacinamide and Detoxi-Look®, panthenol and hyaluronic acid to hydrate, and cannabis sativa (hemp) seed extract to calm. I could go on. The serum is calming before anything else (thanks to loads of antioxidants and our hero hemp seed extract) but also hydrates and restores (I mean, my skin after this? heaven.)
If you're someone that only wants to use one serum that hydrates and calms as it retexturises, this is the one. You can use it morning or night, too. Or both!
A note on Detoxi-Look® – this is a blend of glycerin, immortelle, and daisy extract, with manufacturer data suggesting it can help with redness and encourage skin to detoxify itself, so speaking very broadly it is an anti-pollution, protective ingredient.
Face Oil
Oil Infusion Hemp-Enriched Fortifying Oil Serum is a real overachiever of a face oil that's balancing, brightening, and barrier supporting. The beautiful sea green colour comes from again from the hemp seed and blue tansy oils, both soothing and balancing. There's also brightening from licorice extract and 4-buytlresorcinol. That's what got me excited. Give me all the brightening, please.
As you may know, after sunscreen, the most important part of brightening is getting on top of any stress or irritation, THEN you work on preventing excess pigment. This takes care of the stress and helps with the pigment, too
And on sustainability, we have refills available for purchase, locally sourced ingredients, a tree is planted for every online order, and 100% of carbon emissions are offset through Carbon Neutral. Each product is refillable and truly best in class, so you'll actually want to refill it.
I can't wait to see what's next from Vela Days (I might have had a sneak peek…)
Now let's take a moment for the formulating genius that put calming ingredients in each step of your (happily minimal) routine!
You can check out skincare from Vela Days now via their website – https://www.veladays.com/
These products were sent to me as PR samples. Read my disclosure policy here.