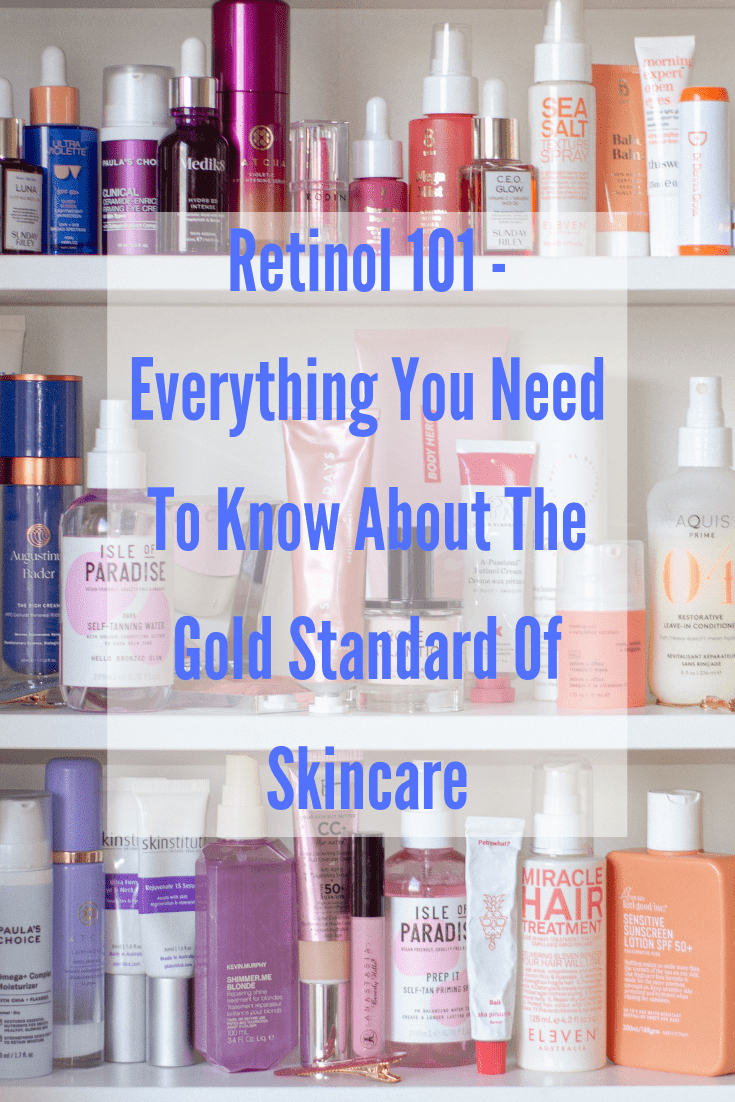 Retinol 101 – All Your Questions Answered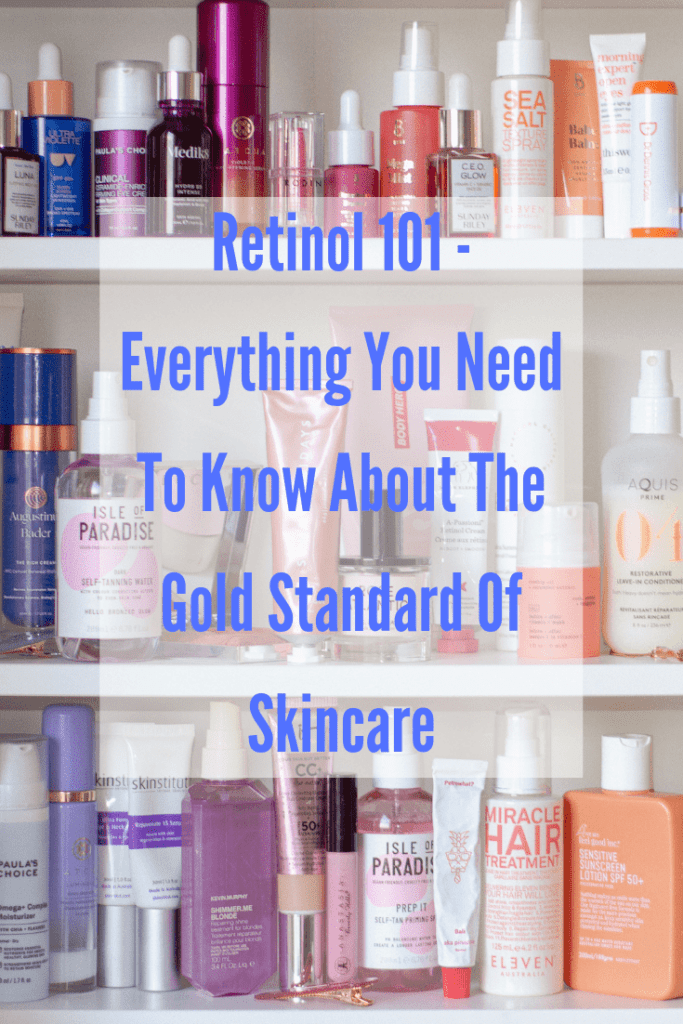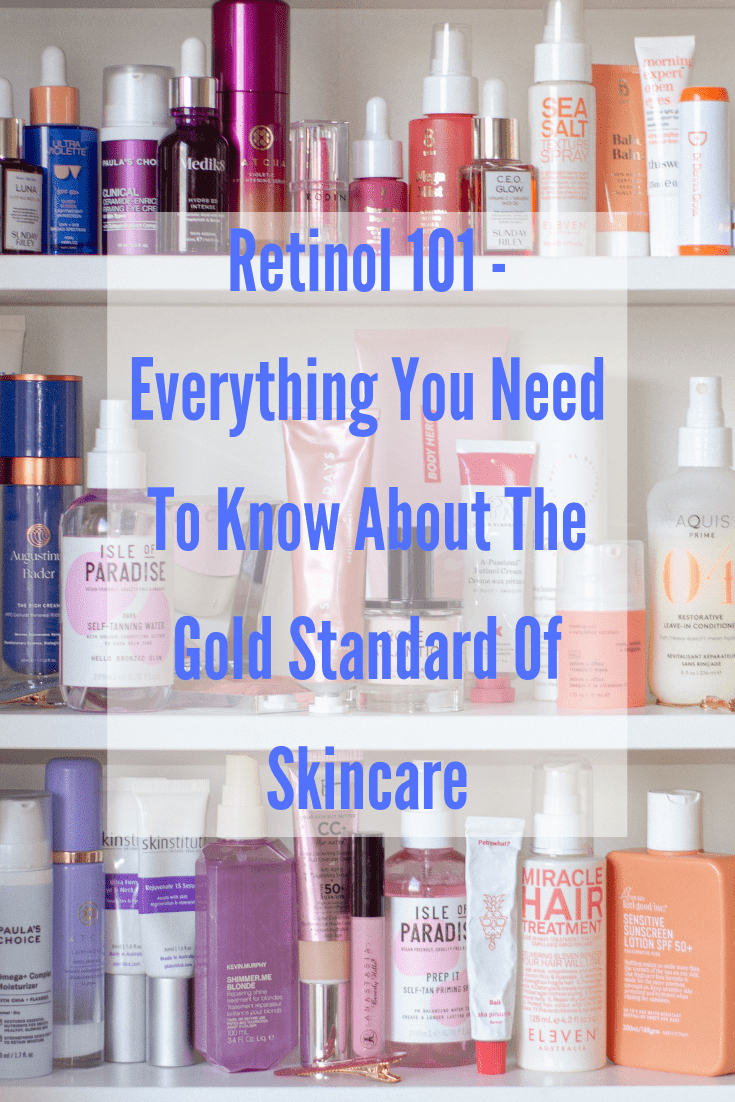 Retinol is trending in beauty, and for good reason – it's the gold standard in skincare for anti-aging, backed by years of solid research. Retinol is a form of Vitamin A, and all related skincare ingredients are called retinoids, or Vitamin A derivatives. In this post, I've compiled my #FutureProofingFriday series from Instagram. I'll be adding to this page every week, and I've listed some upcoming posts at the end.

Please leave any further questions in the comments (or shoot me a DM on instagram) and I'll add them to upcoming posts
Contents:
What does it do?
Best advice for beginners
An example routine for beginners or sensitive skin
Retinoids and acids?
Difference between acid exfoliation and retinoids
What age should I start?
My before and after photos
The products I use on retinol night
Common Vitamin A ingredients, gentlest to strongest
Retinoids and the sun
Caution: signs you've gone too far
Bakuchiol – is it the same as retinol?
Remember – your mileage may vary, and always wear your SPF.
So What Do Retinoids Actually Do?
Retinoids have most of their antiaging effects by influencing gene expression, but they also have some antioxidant activity.

The results of these actions are;

✨ Prevention of collagen/elastin breakdown, meaning skin is full and elastic for longer

✨ Increase of collagen production, which keeps the skin thick and supported

✨ Hyaluronic acid presence in skin is indirectly increased! This is a water binding molecule that keeps skin moisturised and bouncy looking.

✨ Reorganises the cells, leading to smoother and less congested skin

✨ Retinoids inhibit inflammatory mediators, which… sort of de-stresses the cells. Happy cells are healthy cells!

✨ Can address pigmentation, both directly by preventing melanin production and transfer, AND in conjunction with other ingredients (by helping the previously damaged cells turn over)

Altogether this means reduced fine lines and roughness, and smoother, more even skin. You can see this in action on my face below, on my before and after picture.
Before And After – 7 Months Of Weekly Retinol
Best advice to begin retinoids or retinol?
Simple – tread. Lightly.
It's a marathon, not a sprint. Accept your face as it is, but know it will improve over the next 4-6 months, one year, five years… Marathon.

So I burned my face off last year with a prescription retinoid and gave myself a really intense purge. My confidence was decimated, and so was my skin barrier.
My advice from here is, start at once a week.
I use a pea size of Drunk Elephant A-Passioni (1% retinol), NO MORE, with equal parts of a hydrating and soothing serum.
I did that for six months! There's no rush.
An Example Retinol Skincare Routine For Beginners Or Sensitive Skin
| | |
| --- | --- |
| Day | PM Skincare |
| Sunday | Acid night |
| Monday | Retinol |
| Tuesday | Hydrate |
| Wednesday | Hydrate |
| Thursday | Hydrate |
| Friday | Hydrate |
| Saturday | Hydrate |
It's not an exact science, but patience is key – we're talking 4-6 months minimum for real results. Marathon, not a sprint.
⠀⠀⠀⠀⠀⠀⠀⠀⠀
You'll see a reduction in fine lines, visible pores, pigmentation, and non-inflammatory acne lesions (blackheads and whiteheads).
⠀⠀⠀⠀⠀⠀⠀⠀⠀
Please keep in mind, this is all assuming we have subclinical skin issues to treat, and I'm talking about retinol specifically. If you are at a stage where you're using a prescription retinoid for a condition like inflammatory acne or melasma, please talk to your treating healthcare professional.
⠀⠀⠀⠀⠀⠀⠀
How To Use Exfoliating Acids With Retinoids
Common question! First of all, I use my retinol always at night (more on that later). I think the use of acids with retinoids depends largely on your skin goals, but we always want to avoid a purge! Let's dive in.
⠀⠀⠀⠀⠀⠀⠀⠀⠀
To get the most out of retinoids;
Try using your acid serum the night before your retinoid night. This way, dead skin cells are unglued and allow the retinoid to further penetrate. At the moment I do day 1, acid, day 2 and 3, retinol, day 4-7, hydrating routines.
Never on the same night unless you're a seasoned pro with acids and retinoids, or using a gentle Vitamin A derivative ie. retinyl palmitate or hydroxypinacolone retinoate.
⠀⠀⠀⠀⠀⠀⠀⠀⠀
To minimise irritation;
You could try alternating with a couple hydrating/soothing nights in between, for example Monday retinol, Tuesday Wednesday rest, Thursday acid serum, Friday Saturday rest, Sunday retinol, Monday Tuesday rest.
⠀⠀⠀⠀⠀⠀⠀⠀⠀
Which acid?
Formula is the most important factor here but a high-level overview would be glycolic acid if you want max absorption (and your skin can take it), lactic acid if you want it more gentle, and salicylic acid if you're more prone to congestion.
⠀⠀⠀⠀⠀⠀⠀⠀⠀
Acid toners;
I use these in the same way as an acid serum, but I think they're better for more acne prone skin. If sensitivity is ever an issue, you should cut back before introducing a retinol. I would follow the above program in this instance. I do occasionally use a gentle one in the mornings (the Gallinee Face Vinegar!)
⠀⠀⠀⠀⠀⠀⠀⠀⠀
Keep in mind, exfoliating acids can be present in a cleanser, a mask, a toner, a serum, or even a moisturiser. Stronger does not mean better. What makes something better is how well it's suited to you and your skin. We never want to overload our skin, and it can only do so much at once anyway.
⠀⠀⠀⠀⠀⠀⠀⠀⠀
If you have inflammatory acne, I would caution you to see a professional and resolve the flare-up before getting into strong retinoids.
The Difference Between Acids and Retinoids
Ever wonder how acids exfoliate vs retinoids? Is it the same? Do I need both?

🌟 Retinol and other retinoids don't exfoliate the skin in the same way as acids – they stimulate the base layers of the skin to make healthier cells, and more of them, which in turn increases turnover. ⠀⠀⠀⠀⠀⠀⠀⠀⠀
🌟 AHAs (alpha hydroxy acids such as glycolic or lactic acid) exfoliate by sort of… un-glueing the top layers of the skin, revealing the shiny new cells underneath.
They also help thicken the skin and improve the barrier, in the right amounts!
And help with hydration. But that's a chat for another day.

🌟🚨 Flaking means your skin is irritated!! 🚨🌟 Time to dial it back!
This is not necessarily related to exfoliation.
What Age Should I Start?
This largely depends on which retinoid and why.
Kind reminder to definitely speak to your doctor or dermal clinician if you suffer from clinical acne or melasma.
⠀⠀⠀⠀⠀⠀⠀⠀⠀
For gentle retinoids, ie retinyl palmitate and hydroxypinacolone retinoate, I think you could use any time to help with congestion. They're brilliant antioxidants, won't irritate, and the skin can covert them to the active form (retinoic acid) when it needs to.
⠀⠀⠀⠀⠀⠀⠀⠀⠀
Retinol, retinaldehyde, or prescription retinoids are indicated to speed up and normalise cell turnover, so for subclinical acne it can be helpful at any age,
– But I would (and did) start with acids first for acne –
For photoaging… you don't really need to speed up cell turnover until ages 26-30 (at which point it's started to slow down), so I would not start until then if things are working well – we don't want to create new issues unnecessarily!

My before and after picture, above, is from age 30 to 31, using 1% retinol. This result was achieved over 7 months of retinol use, once to twice per week.
No injectables, acids once per week or less.
Remember – please take it slow! It's not a race! Please!
Practical Step-By-Step For Your Retinol Skincare Routine
The Night Before
If you're a beginner, hydrate and minimise irritation.
Use a nice hydrating serum and moisturiser.
Once you're more seasoned (read: 3-6 months along) you could use your acids the night before retinol to help in get in deeper.
I like Alpha-H Skincare Liquid Gold, Farmacy Honeymoon Glow, and Drunk Elephant TLC Framboos

Order Of Application, Dilution
Here's what I do;
Deviant Skincare Cleansing Concentrate, which soothes on contact, for first cleanse.
Cipher Skincare CloudMelt for second cleanse,
NIOD Superoxide Dismutase Saccharide Mist – the most soothing, beautiful mist. I keep mine in the fridge.
Also, serums spread and absorb better into damp skin.
** RETINOL STEP **
No more than a pea size of Drunk Elephant A-Passioni 1% Retinol Cream,
Diluted with the same amount of a soothing serum.
My favourites are Kate Somerville Ceramides & Omegas Serum, Alpha H Skincare Vitamin B, and Skinstitut Rejuvenate 15 Serum.

Then, Drunk Elephant C-Tango Eye Cream,
Moisturise with something rich but replenishing (I'm using Augustinus Bader The Rich Cream),
and if you need extra moisture, add a couple drops of Bybi Beauty Bakuchiol in Squalane, or any non-active, non-fragrant face oil. NOT coconut oil.
⠀⠀⠀⠀⠀⠀⠀⠀⠀
The Day After
SPF!
Note – I notice the sensitivity from my retinol around 36 hours after use. This is because it activates nuclear receptors, which are slow-acting.
So the day after, if you notice no irritation, don't assume you're safe!
Again, keep it soothing and hydrating as a beginner.
I skip strong vitamin C serums (that contain high concentrations of L-Ascorbic Acid or Tetrahexyldecyl Ascorbate) for a morning or two after retinol night,
I use a vitamin B serum with a gentle Vitamin C derivative as my antioxidant instead. And SPF! One more time: S P F.

The Night After
Soothing.
Hydrating.
No acids, unless you know your skin can take it. Not for beginners.
After a few months, if you want to up your usage, the night after is prime time to use retinoids again. But no hurry here.

Listen to your skin, take it easy, and wear SPF!
Gentlest To Strongest Retinoids, Including Product Recommendations
Swipe for a quick guide to help you remember which Vitamin A derivative ingredients are gentler, and which are stronger.
It's not a foolproof system as many products contain encapsulation methods or other actives that affect the result, BUT, it's a good starting point.

Gentlest: Retinyl Palmitate
Best for: Beginners, antioxidant effects, those who wish to use the same thing daily without irritation.
Star product: Shani Darden Texture Reform.

Gentle-ish: Hydroxypinacolone retinoate/granactive retinoid
Best for: Congestion, gentle texture changes over long term, those happy to alternate one night on, one night off.
Star product: The Ordinary Granactive Retinoid, Sunday Riley Luna Sleeping Oil.

Take care: Retinol
Best for: fine lines, texture, congestion. Those happy to introduce slowly. Patience is key!
Star product: Drunk Elephant A-Passioni 1% Retinol Cream

Doctor's Supervision: Retinoic acid/tretinoin
Best for: Clinical acne/anti-aging
Star Product: Retin-A
Speak to your medical professional about this option.

There are a couple newer retinoids I have yet to try (retinaldehyde, retinyl retinoate) so I don't feel comfortable speaking to their efficacy at this time, however, I would tentatively put them in between granactive retinoid and retinol… closer to retinol… based on data and mechanism of action.
Retinoids And The Sun
Do I need to tone down my retinoids while on summer holiday?

Let's first establish that about half of sun damage is from UV energy damaging our cells' structures⚡️🧬, and the other half by generation of free radicals that inflame the skin.
Let's also establish that the confusion around retinoids and sun probably comes from… 👀 brand marketing… 👀

It's true that retinoids are great antioxidants (based on their molecular structure) and they actually strongly absorb UV light!
The issue with this is that they're not particularly stable, and their breakdown in sunlight generates some of the very free radicals we're trying to avoid.

Strong retinoids also generally cause skin irritation, which suggests impaired barrier and elevated inflammatory signalling – two things that sun exposure will definitely lead to. We don't want that to accumulate.

For these reasons, dermatologists recommend avoiding UV exposure during retinoid use. Not "just wear SPF", but completely avoid sun exposure.

⁉️ So what can you do?
Use your retinoids at night, of course,
Phase out/tone down your retinoid while on your beach holiday,
Wear a hat! Sunglasses! UV protective clothing!
Sunscreen doesn't make you invincible… far from it, but it makes a huge difference! Wear it and reapply every day
What Happens If You Go Too Far With Retinoids? Retinol Side Effects
First please note – because of the way retinoids work, you might not notice irritation for a day or two, so I find it best to be careful afterward – my retinol night is Monday so I'm careful Tuesday Wednesday to keep everything gentle and moisturised.

If your skin is irritated, you might notice,
✨ Other products that are normally fine can sting
✨ Flaking, dryness,
✨ Redness, heat,
✨ Painful breakouts! This is the dreaded purge.

I firmly believe that if you introduce them carefully enough, you won't have these issues. My tips are;

✨ Use a small amount at a time,
✨ Use skin-supporting serums in the same routine,
✨ Try applying as the last step, after everything else has dried. This will slow the release.
✨ Sunscreen!
✨ Start off once a week. Just to get a feel for it. ⠀⠀⠀⠀⠀⠀⠀⠀⠀

There's no hurry – results take 3-6 months to really come through, and if you've given up because of irritation in the meantime… it was all for nothing!
Is Bakuchiol The Same As Retinol?
Raise your hand if you've felt personally confused by claims about retinol vs bakuchiol?
I have! So as one does, I read up. Peer reviewed articles, too!

I'll break it down for you.

🌟 Retinol IS natural. It's the alcohol form of vitamin A, you have heaps in your body already, and your body and skin know exactly what to do with it. You can make it in the small intestine out of food sources.

🌟 It's also one of the most well-researched skincare ingredients. The gold standard, even.

🌟 Irritation from retinol serums is (generally speaking) an overload of cellular pathways that process it, resulting in inflammation. That's why we use a small amount at a time, or introduce slowly.

🌟 Natural does not mean good, gentle, or effective. That's a logical fallacy… for example, uranium is natural.

So bakuchiol.
🌱 It's a plant extract, and it works on some of the same pathways as retinol despite not being structurally related.
🌱 It has bonus antioxidant properties, too, and is theorised to help skin to use its own retinol better.
🌱 It can help with wrinkles and pigmentation.
🌱 There are some recorded cases of dermatitis though so if that happens to you, you're not alone.

Worth noting – in the clinical trials I read, number of patients was small, dosage of bakuchiol was double the dosage of retinol, for a slightly less pronounced but still comparable effect.

Altogether sure, it looks promising, but there's hardly the wealth of research behind it that we have for retinol, and retinol should not be demonised to promote it 😊
Retinol is great.

References:
Cosmetic Dermatology, Products and Procedures, 2016
DOI: 10.1111/ics.12117 Bakuchiol: a retinol-like functional compound revealed by gene expression profiling and clinically proven to have anti-aging effects
DOI 10.1111/bjd.16918 Prospective, randomized, double‐blind assessment of topical bakuchiol and retinol for facial photoageing
Future Posts:
Is Prescription Retin-A Better Than Over-The-Counter Vitamin A Products?
The Hayflick Limit Myth
What to look for on an ingredient list
Can All Skin Types Use Retinol?
Every Retinoid Product I've Tried And My Experiences
Definitions – Retinol? Retinoid? Retinal? Prescription-Strength? Conversion in the skin?