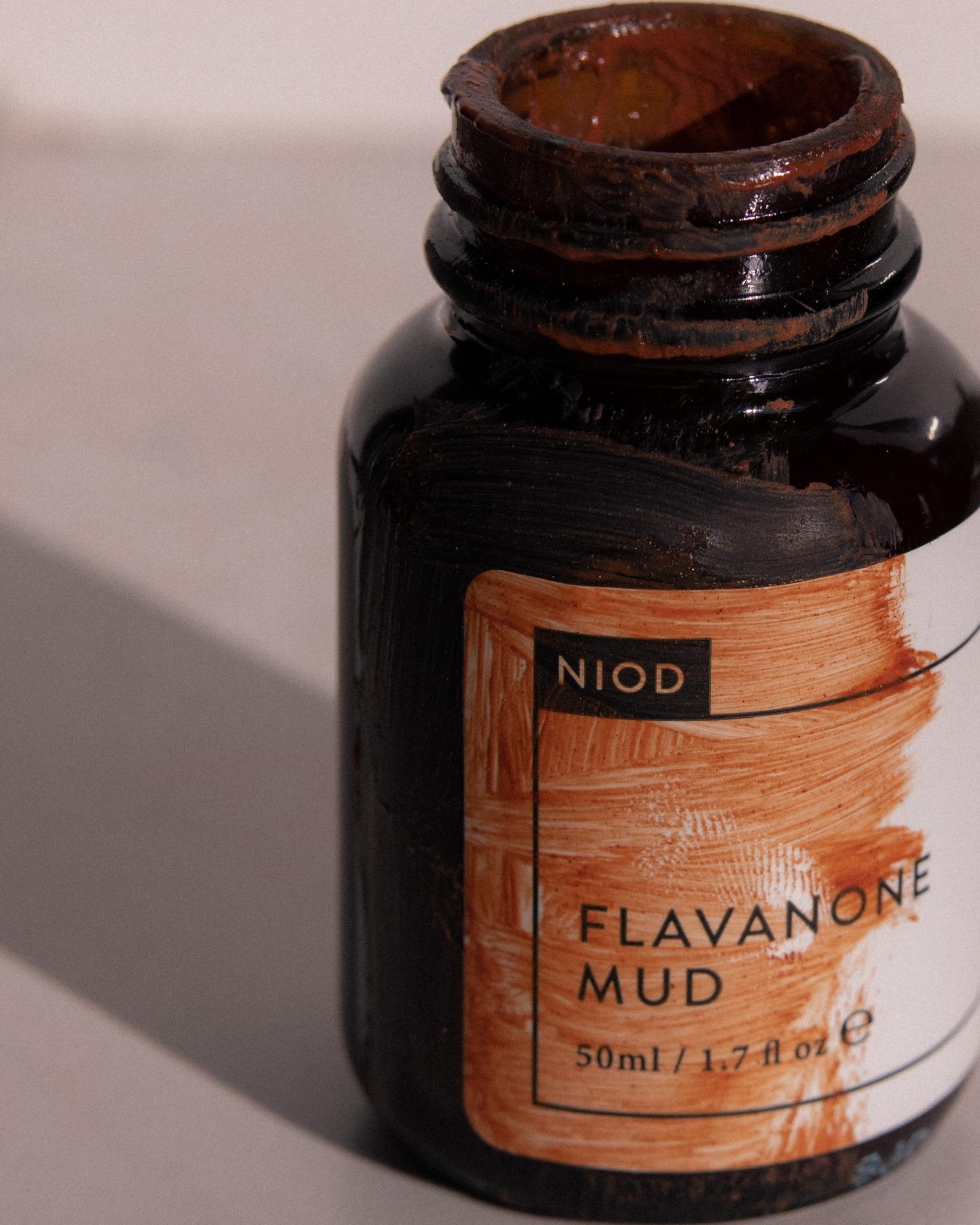 The Best Clay Mask for Acne 2021: NIOD Flavanone Mud Review
Sure, you've seen TikToks of clay masks that get the satisfying oil-absorption dots on the nose, but what do they actually do for acne?
Not only are clays vitamin-rich and full of minerals, but they do a fantastic job of balancing our skin. There's nothing more satisfying than watching your pores unclog from a good clay mask – indeed, the clay can actually attract and absorb the oil, shrinking spots and clearing the complexion.
Fabulous.
When asked about clay masks for acne on my Instagram, I always give the same answer – NIOD Flavanone Mud. It's magic. Nothing compares. In fact, all other masks pale in comparison.
It helps clear the complexion without drying or irritating like many other clay masks. It does this by delivering antioxidants, and nutrients while respecting the barrier.

I've used Flavanone Mud in so many ways;
As an overnight spot treatment,
To bring a brewing spot to a head,
To improve the appearance of sebaceous filaments,
After a long, hot day, to prevent congestion,
To visibly brighten and tighten my skin on an oily, dull skin day,
To maintain clear skin as a once-weekly treatment
To rapidly clear a bad breakout, by using every other day for a week.
After use, the skin is immediately brighter, while pores and active blemishes appear smaller.
Fair warning though, it will draw out blemishes from under the skin, so if you have one of these coming through and you have a party tomorrow, keep that in mind!
Let's talk about how it works.
Ingredient Deep-Dive
Clay masks are designed to break down and remove excess oil and pollution from your skin. This is the result I expect from any clay mask, but Flavanone Mud goes above and beyond, with bonus tightening and brightening. The anti-inflammatory action is noticeable from the first use and unparalleled by any product I've tried.
Let's look into how Deciem do it!
Montmorillonite, Kaolin, and Argilla clays pull impurities from the skin and deliver important minerals – copper, for example.
Your pores are now cleared of extra oil, pollution, and debris, and all but disappear.
The star of the show is flavonoid from citrus called naringenin, which enhances wound healing and inhibits oxidative stress (data comes from animal studies). On human skin, this could translate to soothing of angry skin. Like a sore pimple, perhaps?
Did you know, when our body's inflammatory processes kick into gear, white blood cells can attend and start firing off free radicals themselves? Rude huh.
It's an attempt to kill the acne bacteria, but it still hurts!
There's loads of kickass brightener and antioxidant resveratrol
Perfluorodecalin acts as a delivery system to oxygenate the skin – this is also present in Biologique Recherche's iconic Masque VIP O2. To give your skin more oxygen.
Panthenyl Triacetate delivers a soothing and repairing effect deep into skin. It's an oil-soluble derivative of vitamin B5, and we've seen Deciem use oil-soluble derivatives to deliver actives deeper into the skin in several products (like NIOD's CAIL). Clever!
Potassium Azeloyl Diglycinate calms and brightens. It's a cosmetically elegant azelaic acid derivative, with soothing, anti-acne, and anti-inflammatory properties. It's also present in NIOD Re:Pigment and Dr Dennis Gross' Ferulic + Retinol Brightening Solution, which (just quietly) looks AMAZING.
Key amino acid arginine (a precursor for all-important collagen) supports the skin's barrier and can even help to heal & prevent glycation.
What about that TINGLE!?
I know. I only feel the tingle sometimes but it's best described as a strong sensation of heat in the skin, and happens after rinsing. It can be exacerbated by the next product you apply so keep an eye out!
You don't have to worry – Flavanone Mud is packed to the brim with anti-inflammatory and antioxidant ingredients so I can assure you it's not a bad tingle. My theory is that the feeling comes from the oxygen delivery system combined with glucosyl hesperidin and naringenin – both compounds with documented effects on circulation.
In English, the mask is stimulating blood flow to the face, which is a good thing!
Blood flow brings the cells nutrients!

One more thing – NEVER do the accelerated method. Sorry, Deciem. Flavanone respects the barrier, sure, but not enough that it can be used 5 days in a row without causing drama. I learned the hard way.